I really do love sauces. I think every meal can be improved with some sort of dipping sauce or topper. These toppers or dippers can add just that bit of complexity and zing to make a meal go from good to amazing! But whenever I go to the store these items seem to have ingredient  lists so long my brain gets tired before I reach the end. Do you know that mayo only needs 5 ingredients yet the store bought ones have 9 or more (do we really need to put sugar in mayo??).  Making ketchup takes 10 minutes and has zero high fructose corn syrup, regular corn syrup or so called "natural flavorings" (if they are really natural why wouldn't you just list them?).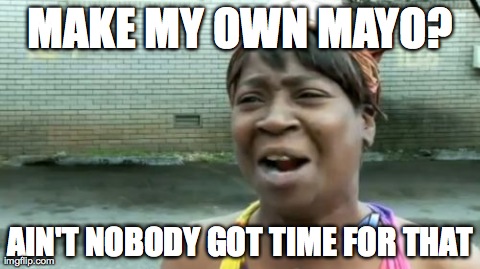 I know you are sitting there thinking, "Mary, are you crazy? You think I am going to spend my Saturday mixing mayo and ketchup?" I promise the 30 minutes it takes to make both of these recipes will produce you not only the best condiments you have ever tasted but the base to then create some pretty delicious toppers and dippers!
These recipes are my go to condiment recipes for fail proof deliciousness! Once you have your base the possibilities are endless.
Add some chipotle or curry to your ketchup for a little extra kick to go with sweet potato fries or chicken nuggets.
Add saffron, chipotle and garlic to some mayo for a topper on fish
Add chives and lemon juice and zest to mayo for a light tangy sauce which goes well with fish and chips!
Add turmeric and garlic to mayo to top on burgers (remember turmeric is a super food!)
Make your own 8 ingredient Ranch Dressing (which you should because the ingredients in Hidden Valley is a little suspect! Really 19 ingredients!)
Mix in what you got! My best creations have come from mixing ketchup/mayo with extra herbs and left over lemon, lime or vinegar that I have from whatever I am cooking.
If you add any spices to your mayo/ketchup let it sit in the fridge for a couple hours so the flavor has time to marinate!
But if you aren't fully ready to take on the very small burden of making your own ingredients here are some good alternatives you can buy at the store
Mayo:
Best: Sir Kensington
Better: Spectrum Mayonnaise Olive Oil
Good: Hellmann's Olive Oil Mayo
Ketchup:
Best: Sir Kensington
Better: Westbrae Natural Saugar Free Organic Ketchup
Good: Heinz Organic Ketchup
Toppers:
I love relish, salsa and guacamole to use as toppers! These three things are SO simple to make and go with pretty much everything.  Guac is great for burgers, omelets or tacos. Salsa ingredients can be mixed up to make them sweet, spicy or tangy to go with fish, burgers, eggs or salads. Relish just like salsa can be manipulated to match the dish but adds a tangy taste to burgers, chicken nuggets or meatloaf.
Guacamole
2 avocados
1 tomato, diced
1/4 onion, diced
1 lime, juiced
1/2 jalapeño
1 clove garlic, minced
1 T cilantro, minced
Directions: Mix all ingredients together!
Relish:
2 dill pickles, diced
1 tomato, diced
1/2 onion, diced
1 T lemon juice
1 t garlic, minced
Mix together and let sit in fridge for at least 30 minutes. Great on top of burgers!
Salsa:
Base:
6 tomatoes, chopped
1/2 red onion, diced
6 cloves garlic, minced
1 juice of lime
1/4 cup cilantro, minced
Add ins:
1 jalapeño, diced
1 cup pineapple, diced
1 cup mango, diced
1 cup cucumber, diced
1 cup black beans
1/2 cup olives, halved
1/2 cup corn
1/2 cup purple grapes
Directions: Mix your base then choose a couple add ins if you fancy and put in fridge for at least 30 minutes.
Hope this post has inspired you to try creating your own toppers and condiments that are all natural and made with real ingredients 🙂